The experience in the 'Courtroom' shows the idea of how space can affect engagement of role playing games between users and triggers certain actions. Browsing through a large variety of the user-made worlds, I found this room called 'Courtroom'. I wondered why this room exists among all the other crazy fantastical places, which trigger everyone's imagination. I decided to explore it out of curiosity.
As soon as I arrived at the room, I was surprised by how detailed the surroundings were and how it gives spatial experience close to the actual space. The objects placed around were simple but enough to feel formal. As if I just arrived at the physical space I've never been to, and as if I know no one around, again, I browsed the space with a bit of awkward movement and thought of what I should do here. The first thing I saw was clothing racks with tags as exactly looking as the ones that we see at the theatres in real life.
They look quite convincing with the numbers and writings on top of the rectangular notes.
Not much after, I hear very young voices from the room in the corner which is slightly far away. Sounds like they must be in their early teens. How can these young children use the Virtual Reality equipment? I also hear a couple of voices of adult men. They sound like they are communicating together and having some sort of discussions.
There were multiple anime characters and a green man in the courtroom. The green talked and seemed like he's very familiar with this place as he navigated the whole space without hesitance.
TIMESPLIT:
"There... okay.. RGBdog, you are a defence lawyer."
RGBdog(me):
"?"
Suddenly being called by someone, seems like I accidentally got given a role without knowing what I'm supposed to do in this room. I just wanted to look around the space.. Wasn't ready for a verbal communication. I quickly try to put my social mask on and understand what is happening here.
TIMESPLIT:
"RGBdog, do you have a mic?"
RGBdog:
"Oh yes.. I do"
TIMESPLIT:
"Good. This character in front of you made a cruel crime and you need to defend her as a defense lawyer."
TIMESPLIT started to unfold his imagination and read out the story he had in his mind while I was still not sure what my role was.
TIMESPLIT
(judge):
The ID HAYDENCHANICE is accused for 10 million murders throughout the universe. She ran around and destroyed people's spaceships. Do you see the giant tank here? This is one of the weapons she used. She genocided 10 million of geno-alien species. You have to talk to her and find a way to defend her.
Me
(defend lawyer):
"(very confused about this whole situation, pointing at ID HAYDENCHANICE) How…. how dare you!! You're a terrible murderer!"
I hear children laughing hard at this. They must be less than 10 years old.
TIMESPLIT:
No, no no. You're supposed to defend her, that was a worthless defence. Go to the evidence room and get some evidence for your trial. It's in the back.
A very young kid:
RGBdog, you suck at defence.
Me:
"(Couldn't hold my laugh, laughing out loud) Sorry, it's my first time being here."
The kid:
Ahh! That explains EVERYTHING!
After lots of laughs and playing along with them for a while, I realised this space is designed to encourage a role-playing game between the users with the concept of 'a trial at court', which needs users' voluntary participation. Considering the large age range starting from less than 10 years old, I thought this space must be great for learning as well. Even for me who wasn't very aware of the terms like 'defend lawyer' and 'prosecutor' in English, it gave me an idea immediately what the roles were about, (after my one mistake that all kids laughed at.) Also, I found that the gaming system was very cleverly designed with many elements helping user interaction to be even more enjoyable. For example, an evidence room.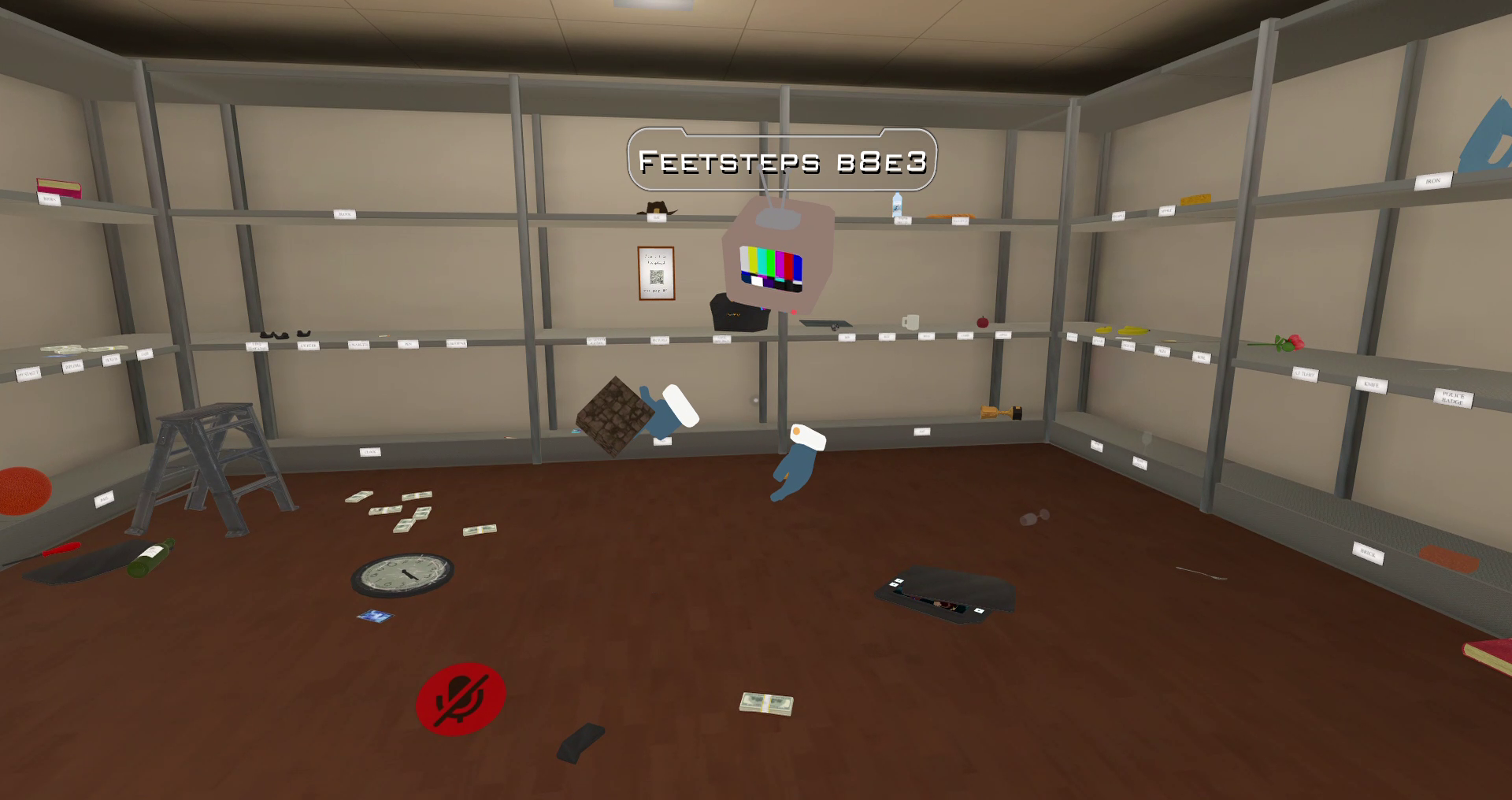 The evidence room.


When the judge allows, the defence lawyer and the prosecutor can go into the evidence room and grab an object that they might find useful for them. A broken clock, money notes, a toothbrush, a pen, a cigarette, an iron, a trophy, a floppy disk, a revolver… Many items were intriguing the imagination. It's such a simple system but effective. The users with their roles quickly have to think of what items can add to their circumstances and bring it out to the table. Each of them is given some time to speak about their evidence and explain why they believe in what they do.
Secondly, the digital scoring system also makes this role-based game more playable.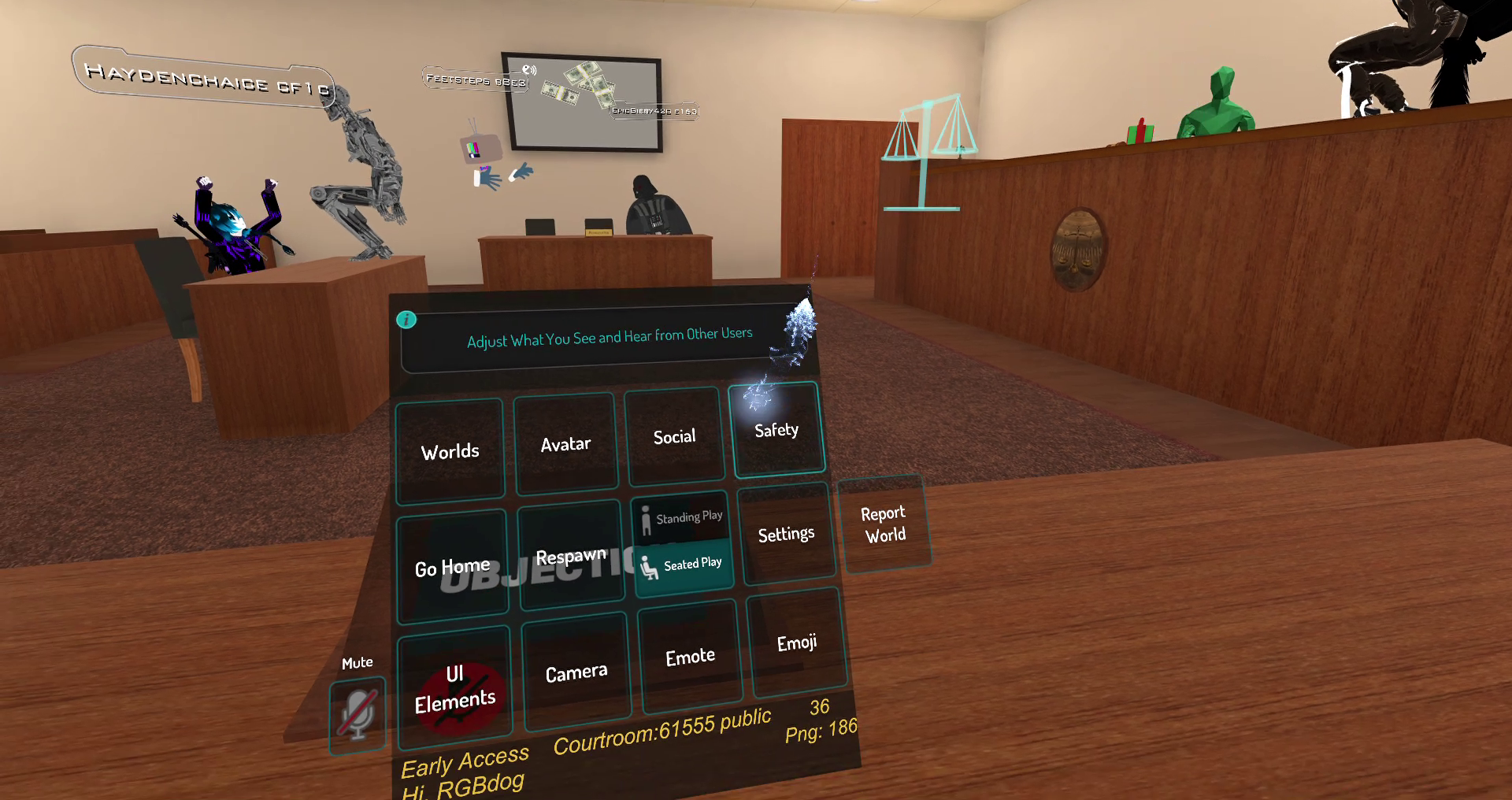 The prosecutor earned a point after bringing a convincing story.
Considering the stories, which are backed up by the appropriate evidence the prosecutor and the defence lawyer create, the judge can give scores to each party. Finally, the digital system counts scores to judge the winner for this trial. In conclusion in this space, I have encountered many possibilities of design to trigger certain user interactions and the individual's imagination in the VR space by bringing discourses from real life. Regardless of the age gaps, everyone could enjoy this role-play game as we used to do in our childhood. It is made possible with the architecture of this space, the easy-to-understand scoring system shown often in video games, and the open mindset, which occurred by the feeling of bonding. This feeling of bonding comes from the fact that we all already chose for this odd experience, from the moment we decided to play 'VRchat'. In addition, I won the trial as a defence lawyer by arguing that the prosecutor didn't have enough evidence and convinced the judge that the murderer was mentally delusional during the genocide.